The Belize Barrier Reef Reserve System is 300 km (186 mi) long, part of the 900 km (560 mi) Mesoamerican Barrier Reef System that extends from Cancun to Guatemala. It's the second largest coral reef system in the world, after Australia's Great Barrier Reef. The reef system includes seven marine reserves, 450 cays, and three atolls. Because of its natural beauty, natural habitats, and potential for conservation of biological diversity, the Reserve System has been designated a UNESCO World Heritage Site.
An advantage to staying on Caye Caulker and diving with Belize Diving Services is simply this: We are closest to the best dive sites! Our proximity enables us to offer a variety of dive trips, including 3- to 4-hour barrier reef dives, a 6-hour spin to Turneffe Atoll or an all-day (9-hour) dive excursion to Lighthouse Atoll, home of the famous Great Blue Hole. Our close-in, Barrier Reef Dives include: Esmerelda Canyons, Tackle Box, Cypress Tunnels, North Cut, Rock Beauty, Island Queen Canyons, Long Caye Wall, Remora's Revenge, Groupers Doorknob, and dozens more—covering more than 50 miles on the barrier reef and waiting for you to discover them.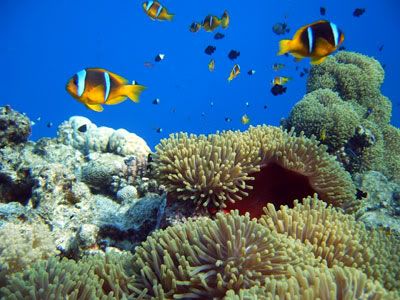 Some of the best diving in Belize is just 10 to 30 minutes from Belize Diving Services' pier. The Belize Barrier Reef is an excellent example of a coastal reef system and dozens of dive sites—Tackle Box, Esmerelda, North Cut, Rock Beauty, Cypress Tunnel, Sand Trap, Long Caye Canyons, Gallows Point, Margarita Canyons, just to name a few—within 50 miles mean we can offer a different tour every day. The nutrients and food introduced into the system by the rivers and mangroves of the mainland make the barrier reef the best place to see marine mammals (dolphins especially) and large reef fishes. Of course, since this is a coastal reef system, the visibility can be as low as 40 ft., and the seas are frequently rough, making these dives more advanced than most of the atoll dives.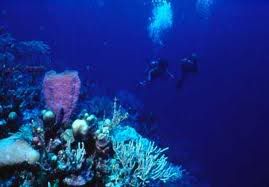 The northern Barrier Reef, (Hol Chan area) is known for its friendly Nurse Sharks and large grouper. In this area, you will also find more than 160 species of fish and 40 species of corals, sponges, algae, and sea turtles. The topography of the area has a sloping shelf, dramatically cut with deep cracks and crevices winding to the reef's outer edge where the continental shelf begins its plunge into the Caribbean trench.
Caye Caulker Marine Reserve and its surroundings offer some of the most natural diving in the region. Here you will see a beautiful, healthy reef with copious amounts of live corals and juvenile fishes. Plus, there have been some remarkable encounters with hammerhead and turtles and other shy species, as it is less crowded than the northern area of the reef.
Bekijk reacties
Go to top
---